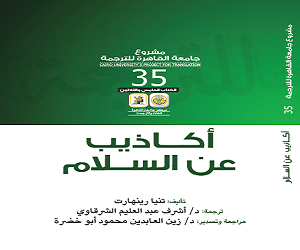 An important cultural initiative of Cairo Universitys translation project, sponsored by Dr. Gaber Nassar, President of Cairo University, has been issued by Center for Foreign Languages and Professional Translation – Cairo University, which is supervised by Dr. Mohamed Othman Al-Khosht, Director of the center. It aims at deepening the cultural enlightening role of Cairo University and enhancing its competitive abilities in field of translation and academic publication through translating the best academic researches and ideological works written in different languages by scientists, thinkers and authors in all cognitive fields, witnessing by this a great growth at the international level.
Center for Foreign Languages and Professional Translation – Cairo University has finished the translation of an important book from Hebrew to Arabic. The book is entitled Falsehoods about Peace, authored by the Jewish Israeli writer, Tania Rinhart, a political activist and an academic professor at Tel Aviv University. She led a huge international campaign in 2002, urging boycotting Israeli universities which adopted passive attitude towards Israeli practices against Palestinian people. As a result, some British and French universities responded to her campaign. During one of Israeli aggression waves against Gaza, she wrote: Defense forces are hungry for wars so for what are you fighting. The beginning of her ideological attitude towards the Palestinian issue was after signing Oslao agreements because she and a minority of Israelis saw that it is unfair to Palestinian rights.
When Sharon violated Al-Aqsa Mosque with 2000 police man, she wrote: It is not only Sharon who is responsible for the massacre, but also members of Peace Camp members because they know that this will ignite fire in occupied territories.
Falsehoods about Peace book focused on the era of post-uprising Oslo after it became obvious, she wrote, that there is a mechanism of withholding information from Israeli community in order not to understand what happens in reality, this withholding extended to Western mass media.
The book depends on facts that took place after Barak and military organization abolished Oslo agreements. The book revealed some Israeli politics falsehood, in which the two Prime Ministers Aahood Barak and Benjamin Netanyahu cooperated, concerning Israeli endeavor to achieve peace and Israeli mass medias endeavor to create false concepts that suggest that the Israeli leadership intends to negotiate a withdrawal. However, that leadership was commending colonists in Western Bank.
Dr. Mohamed Othman Al-Khosht, Director of Center for Foreign Languages and Professional Translation – Cairo University, said that this book contributes to getting researchers and Arabic readers introduced to Israeli community concerning all sides as well as the logic by which Israeli leaderships think.
Latest News
The President of Cairo University thanks Cambridge for the courage shown in its return to fairer assessment methods, which restored the world's confidence in it.
Cairo University Celebrates Forty Fifth Anniversary of October Victory
Cairo University President Meets Vice-President of Renmin University of China to Discuss Means of Cooperation of Belt and Road Initiative with Ain Shams University President Attending
Open Dialog by Minister of Islamic Endowments and Cairo University President with Students about Deconstructing Extremist Ideologies
Cairo University Organizes International Forum for Cultural Heritage entitled Popular Literature and Interdisciplinary Studies in Participation with Researchers from 9 States
Back