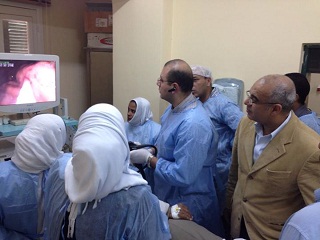 Faculty of Medicine – Cairo University has organized a free medical convoy to Aswan from 19 to 22/2/2014 in Aswan Academic Hospital and Ministry of Health Hospitals: Opthalmology Hospital, fevers Hospital and Kom ombo Central Hospital.
The convoy is sponsored by Dr.\ Gaber Nassar, President of Cairo University, Dr.\ Mansor Kabash, President of Aswan University, and Mustafa Yousry, Aswan Governor. It is supervised by Dr.\ Hussein Khairy, Dean of Faculty of Medicine, Cairo University, and Dr.\ Khaled Hendawy, Vice Dean of Faculty of Medicine for Community Service. The convoy included about 30 professors from all medical specializations supervised by Dr.\ Mohamed Shehata Abdu-Allah, General Supervisor of medical convoys at Cairo University who explained that coordination has been made with Dean of Faculty of Medicine, Aswan University, and Undersecretary of Ministry of Health at Aswan to debate cases at hospitals and receiving patients. The convoy visited West of Aswan Hospital which will be inaugurated soon.
Dr.\ Shehata said that the tasks that the convoy made included medical examination and debating around 1500 patients from Aswan inhabitants, conducting around 43 cases of diagnostic and healing digestive system telescopes. About 21 operations of transplanting eye lenses have been performed at Opthalmology Hospital and Kom ombo Central Hospital, as well as performing 7 cases of healing nasal telescope and 10 orthopedic and pediatric surgeries.
The convoy included a specialized laboratory for conducting medical tests for 100 liver patients and detecting viruses. The laboratory is sponsored by Dr.\ Gamal Essmat, Member of National Committee for Combating Liver Viruses.
Noteworthy, the medical convoys at Cairo University make periodical visits to far governorates such as; Red Sea, New Valley and Sinai, as well as Giza areas and countryside for offering therapeutic services. This is included in the services presented by Cairo University for community.
Latest News
The President of Cairo University thanks Cambridge for the courage shown in its return to fairer assessment methods, which restored the world's confidence in it.
Cairo University Celebrates Forty Fifth Anniversary of October Victory
Cairo University President Meets Vice-President of Renmin University of China to Discuss Means of Cooperation of Belt and Road Initiative with Ain Shams University President Attending
Open Dialog by Minister of Islamic Endowments and Cairo University President with Students about Deconstructing Extremist Ideologies
Cairo University Organizes International Forum for Cultural Heritage entitled Popular Literature and Interdisciplinary Studies in Participation with Researchers from 9 States
Back