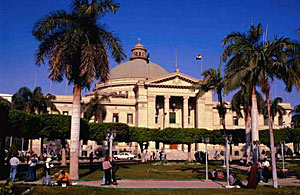 Under the chairmanship of Prof. Dr.\ Gaber Nassar, President of Cairo University, and the head of the conference, Cairo University Center for Arbitration holds a conference about the effect of arbitration on fields of economy and investment on September 13, 2014 at Grand Celebrations Hall at Cairo University. The sessions of the conference will be followed by a training course with the participation of lawyers and employees in arbitration field. The conference inauguration is witnessed by ministers, professors and arbitration experts in Egypt. This has been declared by Dr.\ Hasan Gemeai, Head of Cairo University's Center for Arbitration, pointing out that the main session's works of the conference is entitled "Arbitration as an Ideal Way to Resolve Disputes Locally and Internationally". Theses of the session include introducing arbitration and convening litigation, procedures of applicable arbitration and laws, institutional arbitration applying to Cairo University Center for arbitration, arbitration in commercial, local and international disputes and in civil, real estate, and administrative contracts.
Then, the sessions of the training course start lasting for two days including eight lectures about the effect of arbitration on fields of economy and investment concerning companies and banks, agricultural and industrial sectors, administrative and state contracts, cinematic production and satellite broadcasting, investment guaranteeing agreements and international arbitration, arbitration according to Islamic sharia, and issuing a verdict and carrying it out.
Dr.\ Hasan Gemeai has said that participants in the training courses will get a certificate stating their participation in the conference, allowing them to pass the training course, and after completing the conditions they will be enrolled in arbitrators' rules and certified by arbitration lawyers.
Latest News
The President of Cairo University thanks Cambridge for the courage shown in its return to fairer assessment methods, which restored the world's confidence in it.
Cairo University Celebrates Forty Fifth Anniversary of October Victory
Cairo University President Meets Vice-President of Renmin University of China to Discuss Means of Cooperation of Belt and Road Initiative with Ain Shams University President Attending
Open Dialog by Minister of Islamic Endowments and Cairo University President with Students about Deconstructing Extremist Ideologies
Cairo University Organizes International Forum for Cultural Heritage entitled Popular Literature and Interdisciplinary Studies in Participation with Researchers from 9 States
Back