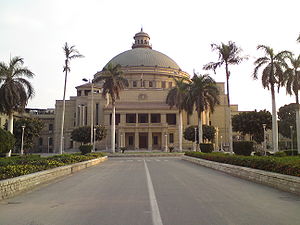 Faculties of Cairo University have finished its preparations to receive new and old students in the new academic year which will start on October 11. The preparations included preparing study schedules, distributing students on academic sections and equipping auditoriums and lectures halls. The faculties deans will make tours inside their faculties during the first week of study and hold meetings with students especially the newly enrolled ones at lectures halls. Places of registration and student enrollment have been increased in the new academic year. Youth care administrations at the faculties are responsible for guiding new students to places and headquarters of student activities and getting them acquainted with different activities.



Cairo University stressed the necessity of the regularity of the educational process at the faculties, and not traveling abroad, of staff members, during the first days of study except for attending international conferences or presenting an internationally published research after the permission of President of Cairo University. Cairo University has adopted all measurements of securing university facilities and educational process during the new academic year which includes finishing the system of surveillance cameras in the university campus, faculties and university hostels, installation of iron slabs to plug the outlets of the university campus walls, boosting administrative security with 200 individuals specialized in rapid deployment, as well as securing the main gates of the university through a specialized security company which contracted with Ministry of Higher Education to secure university gates counting six entering gates. Entering the university campus will be through specialized electronic gates, whereas four gates have been devoted to exit.
Latest News
The President of Cairo University thanks Cambridge for the courage shown in its return to fairer assessment methods, which restored the world's confidence in it.
Cairo University Celebrates Forty Fifth Anniversary of October Victory
Cairo University President Meets Vice-President of Renmin University of China to Discuss Means of Cooperation of Belt and Road Initiative with Ain Shams University President Attending
Open Dialog by Minister of Islamic Endowments and Cairo University President with Students about Deconstructing Extremist Ideologies
Cairo University Organizes International Forum for Cultural Heritage entitled Popular Literature and Interdisciplinary Studies in Participation with Researchers from 9 States
Back