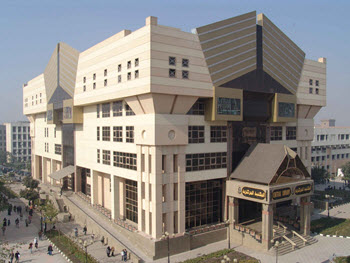 On October 23, Prof. Dr.\ Gaber Nassar, President of Cairo University, and Dr.\ Ismail Serag-ed-Din, Manager of Alexandria Library, inaugurate the new hall for information service, entitled "Knowledge Embassy", at the New Central Library – Cairo University, in cooperation with Alexandria library.
Since its inauguration in 2002, Alexandria Library seeks spreading knowledge and mutual understanding even outside the library's headquarter. In the light of technological and information revolution witnessed by the world, this task has become possible through knowledge embassies subordinate to Alexandria Library. Knowledge embassies are libraries which have been emerged in socially varied and geographically spaced places in all parts of Egypt under the management of Alexandria Library. It aims at linking them directly to get benefit of its options. Therefore, the audience of these ambassador libraries enjoys the same services provided by the Library of Alexandria to the audience inside its main headquarters.
Latest News
The President of Cairo University thanks Cambridge for the courage shown in its return to fairer assessment methods, which restored the world's confidence in it.
Cairo University Celebrates Forty Fifth Anniversary of October Victory
Cairo University President Meets Vice-President of Renmin University of China to Discuss Means of Cooperation of Belt and Road Initiative with Ain Shams University President Attending
Open Dialog by Minister of Islamic Endowments and Cairo University President with Students about Deconstructing Extremist Ideologies
Cairo University Organizes International Forum for Cultural Heritage entitled Popular Literature and Interdisciplinary Studies in Participation with Researchers from 9 States
Back