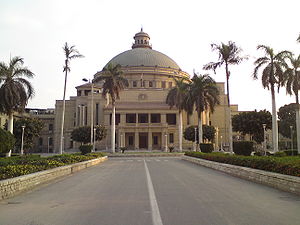 Sponsored by Dr.\ Gaber Nassar, President of Cairo University, and Moaataz Abdullah, Dean of Faculty of Arts, Cairo University, the faculty holds an international conference for comparative literature, entitled "Resistance in Language and Literature", in the period from 11 to 13 November, at 10, a.m., Conference Hall, Faculty of Arts.
About hundred researchers from Egyptian and Arab Universities as well as researchers from Southern Korea, India, Romania, Italy, Nigeria, France, Turkey, and the United States of America Participate in the conference.
Dr.\ Loubna Abdul-Tawab, Head of the Conference and Head of the English Department, has illustrated that the conference tackles several theses about resistance from many perspectives, such as; visual imagery, passive resistance, history and alternative history, media and modern means of technology, globalization and localization, humor, body strength, women and résistance, voice and silence.
The activities of the conference include organizing a seminar, entitled "Imagery Described by Alternative Histories\Texts". On the margin of the conference, students of English Department present a theatrical show for reading poetry with music.
Latest News
The President of Cairo University thanks Cambridge for the courage shown in its return to fairer assessment methods, which restored the world's confidence in it.
Cairo University Celebrates Forty Fifth Anniversary of October Victory
Cairo University President Meets Vice-President of Renmin University of China to Discuss Means of Cooperation of Belt and Road Initiative with Ain Shams University President Attending
Open Dialog by Minister of Islamic Endowments and Cairo University President with Students about Deconstructing Extremist Ideologies
Cairo University Organizes International Forum for Cultural Heritage entitled Popular Literature and Interdisciplinary Studies in Participation with Researchers from 9 States
Back