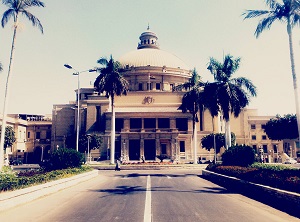 Cooperation protocol was signed between Cairo University and House Technical Theater, affiliated to Ministry of Culture, aiming at promoting artistic and theatrical activities inside the university. The protocol is also targeting holding theatrical shows on the university theater stage, or training artistic teams at the university, and equipping them with all necessary experiences. In this framework, Professor Gaber Nassar, President of Cairo University, and Dr.\ Mohamed Afifi, General Secretary of Supreme Council of Culture, have inaugurated the theatrical show "Men and Women" at the theater stage, Cairo University Hostel, on November 20, 2014. The show has been attended by Professor Ezz-ud-Din Abu-Steit, Vice President of Cairo University for Education and Students Affairs, the artist Fattouh Ahmed, President of Cultural Production Affairs Sector for House Technical Theater, a group of theater artists, such as; Farouk Falawkas, Ahmed Maher, Maher Selim, Soliman Eid, Ahmed Al-Kahlawy, and a group of university professors and students.
Noteworthy, the theatrical show "Men and Women" is directed by Islam Emam. It discusses issues of men and women in a satirical mold through processing the book, entitled "Men are from Mars, Women are from Venus".
Latest News
The President of Cairo University thanks Cambridge for the courage shown in its return to fairer assessment methods, which restored the world's confidence in it.
Cairo University Celebrates Forty Fifth Anniversary of October Victory
Cairo University President Meets Vice-President of Renmin University of China to Discuss Means of Cooperation of Belt and Road Initiative with Ain Shams University President Attending
Open Dialog by Minister of Islamic Endowments and Cairo University President with Students about Deconstructing Extremist Ideologies
Cairo University Organizes International Forum for Cultural Heritage entitled Popular Literature and Interdisciplinary Studies in Participation with Researchers from 9 States
Back