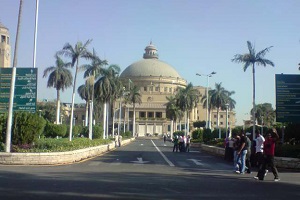 Dr.\ Shawky Allam, Grand Mufti of Egypt, will speak, in the first meeting of Cairo University's cultural season of year 2014/2015, about correct religiosity. This will be in a seminar, entitled "Correct Religiosity: Concept and Practice", held at 5 p.m., on Monday, November 24, 2014, at Grand Celebration Hall, Cairo University.
Grand Mufti, Dr.\ Shawky Allam, has much research, such as; the role of state in zakah, laws of council choice (comparative study), guardianship in marriage contract (comparative study), Sunni and heterodox divorce (fact and provision). He also has 25 books on the political rights of Muslim women (comparative study between Fiqh and law), Fiqh rules and its role in judicial interpretation of contract at contention in its vocalization, women and globalization in Arabian Peninsula, and Muslim women in modern age. He was selected by "Jeune Afrique", French magazine, as one of the most influential 15 African Hierarchs in the Dark Continent.
Latest News
The President of Cairo University thanks Cambridge for the courage shown in its return to fairer assessment methods, which restored the world's confidence in it.
Cairo University Celebrates Forty Fifth Anniversary of October Victory
Cairo University President Meets Vice-President of Renmin University of China to Discuss Means of Cooperation of Belt and Road Initiative with Ain Shams University President Attending
Open Dialog by Minister of Islamic Endowments and Cairo University President with Students about Deconstructing Extremist Ideologies
Cairo University Organizes International Forum for Cultural Heritage entitled Popular Literature and Interdisciplinary Studies in Participation with Researchers from 9 States
Back