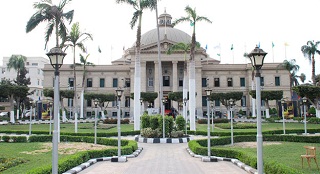 Cairo University announced finishing the studies of Restoration and Development Project of Cairo University's Legacy Library. These studies have been conducted by specialists at The Conservation Center for Archaeological and Historical Buildings and Museum Artifacts (CCAHBMA), Faculty of Archaeology, Engineering Center for Archaeology and Environment (E.C.A.E.), Faculty of Engineering, as well as Libraries Administration, Cairo University. Specialists from Faculty of Engineering and Faculty of Archaeology have started the preparation of measurements of restoration and development work including architectural development of the old library keeping the historical, archaeological and artistic value of the building as well as updating means of technology development.
These measurements are scheduled to be finished in March 2015 in order to pave the way to issuing the bid requirements and initiating the first phase of the project which takes three years to be implemented costing 35 million EGPs. Professor Gaber Nassar, President of Cairo University, has issued a decree of earmarking the funding required for implementing the project during the specified period. This aims at listing the library as a high level one which competes global libraries since it comprises rare legacy treasures in all languages.
Professor Gaber Nassar has said that giving Cairo University's old library more concern is necessary since it contains books, encyclopedias, and rare manuscripts not only in Egypt but at the international level. He added that the legacy library will be provided with a laboratory for old manuscripts restoration which is important. The library contains manuscripts which should be kept for the coming generations.
Latest News
The President of Cairo University thanks Cambridge for the courage shown in its return to fairer assessment methods, which restored the world's confidence in it.
Cairo University Celebrates Forty Fifth Anniversary of October Victory
Cairo University President Meets Vice-President of Renmin University of China to Discuss Means of Cooperation of Belt and Road Initiative with Ain Shams University President Attending
Open Dialog by Minister of Islamic Endowments and Cairo University President with Students about Deconstructing Extremist Ideologies
Cairo University Organizes International Forum for Cultural Heritage entitled Popular Literature and Interdisciplinary Studies in Participation with Researchers from 9 States
Back