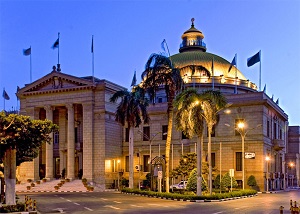 Sponsored by Professor Gaber Nassar, President of Cairo University, a seminar, entitled "The Analysis of Islamic Dimensions in the Scientific Theses at Faculty of Economics and Political Sciences (Cairo University)", is held in the period from 17-18 December, 2014, at 9 a.m., at Ahmed Lotfy As-Sayed Hall, Cairo University.
This seminar is included in the context of cooperation between the Union of Islamic Universities and the Islamic Educational, Scientific and Cultural Organization – ISESCO- and Cairo University. It aims at making a cognitive map that discusses the Islamic dimensions in the context of the disciplines of political sciences, economics and general administration due to the multiplicity of Islamic issues and the variety of tackling its questions in the scientific production of the widespread universities in the Organization of Islamic Cooperation (OIC) countries according to the historical and societal contexts of each country. Thus, the universities' scientific productions of studies and researches that tackle those issues should not be ignored, instead the analyses they adopted and the results they reached should be revised.
Latest News
The President of Cairo University thanks Cambridge for the courage shown in its return to fairer assessment methods, which restored the world's confidence in it.
Cairo University Celebrates Forty Fifth Anniversary of October Victory
Cairo University President Meets Vice-President of Renmin University of China to Discuss Means of Cooperation of Belt and Road Initiative with Ain Shams University President Attending
Open Dialog by Minister of Islamic Endowments and Cairo University President with Students about Deconstructing Extremist Ideologies
Cairo University Organizes International Forum for Cultural Heritage entitled Popular Literature and Interdisciplinary Studies in Participation with Researchers from 9 States
Back