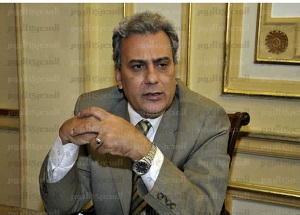 Prof. Dr.\ Gamal Abdul-Nasser, Vice President of Cairo University of Community Service and Environment Development, has said that there is difference between developed countries and developing countries, as developing countries are not so in using coal, however, they are in need for work and enlarging its value among the state's organizations to reach suitable productivity.
Prof. Dr.\ Gamal Abdul-Nasser has also added, through his speech during an educational course at African Studies and Research Institute, that work is a must. He confirmed, during his visit to China, that work has become a habit then a life style.
Prof. Dr.\ Abdul-Nasser has confirmed that all should work and unite together for the sake of Africa and providing information among the countries of the continent.
African Studies Center, Cairo University, has presented Dr.\ Nader Fathullah, Representative of the African Union, an honoring shield during the educational course conference, and a number of staff members of the institute, vice deans, former deans, managers of quality and departments, and former cultural ambassador at Nigeria have been honored as well.






Latest News
Cairo University Celebrates Forty Fifth Anniversary of October Victory
Cairo University President Meets Vice-President of Renmin University of China to Discuss Means of Cooperation of Belt and Road Initiative with Ain Shams University President Attending
Open Dialog by Minister of Islamic Endowments and Cairo University President with Students about Deconstructing Extremist Ideologies
Cairo University Organizes International Forum for Cultural Heritage entitled Popular Literature and Interdisciplinary Studies in Participation with Researchers from 9 States
Cairo University Celebrates Forty Fifth Anniversary of October War Victory and Hosts Former Reconnaissance President and Honors some Graduates Participated in October Victory
Back