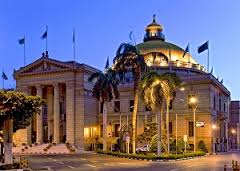 Cairo University has decided to expel 23 students who were engaged in vandalism and violence at the university's campus and raised the flag of Al-Qaeda in the demonstrations of Wednesday, March 19 to which Muslim Brotherhood group called. A statement of Cairo University confirmed that others who participated in acts of sabotage, which have been witnessed by the university's campus, are being confined. The statement pointed out that Dr.\ Gaber Nassar, President of Cairo University, has entrusted a team of legal affairs at the university and the administrative security with offloading videos recorded by the university's camera, before being smashed through these demonstrations, and identifying identities and named of the students who were engaged in acts of violence and sabotage in this day. Acts of violence included infringement of Faculty of Law and smashing the main door of the faculty's administration, some administrative offices and chandeliers at the entrance, raising the flag of Al-Qaeda, smashing some surveillance cameras at the university campus and trying to disrupt the educational process.
The public Prosecution has been notified to preview the losses and damages at Faculty of Law and Faculty of Engineering, where four students were wounded during the events. Record no. 4818 of year 2014 has been written misdemeanor Giza events which have occurred in this day and attached with video records. After the demonstrations ended, administration of forensic examination has surveyed the university and three bombs were found; one of them exploded at Faculty of law without casualties and the other two bombs' effect was invalidated by explosives experts.
Dr.\ Gaber Nassar has confirmed that the university has adopted legal procedures against students who were involved in violence and vandalism. He has also pointed out that the university will never tolerate in carrying out law, with those who engage in acts of violence and destruction in the university, including the use of the new article which has been added to University Organizing Law to deter vandal students. This new article allows expelling from the university.






Latest News
Cairo University Celebrates Forty Fifth Anniversary of October Victory
Cairo University President Meets Vice-President of Renmin University of China to Discuss Means of Cooperation of Belt and Road Initiative with Ain Shams University President Attending
Open Dialog by Minister of Islamic Endowments and Cairo University President with Students about Deconstructing Extremist Ideologies
Cairo University Organizes International Forum for Cultural Heritage entitled Popular Literature and Interdisciplinary Studies in Participation with Researchers from 9 States
Cairo University Celebrates Forty Fifth Anniversary of October War Victory and Hosts Former Reconnaissance President and Honors some Graduates Participated in October Victory
Back