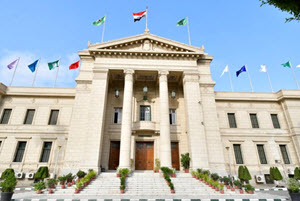 Cairo University has issued a statement mourning the Arab and Islamic Nation the death of the Custodian of the Two Holy Mosques King Abdullah bin Abdulaziz as the following:



"With great sadness and sorrow, Cairo University team mourns the deceased of the Arab-Muslim Nation, King Abdullah bin Abdulaziz the Custodian of the Two Holy Mosques, praying to Allah Almighty to grant him His Holy Mercy and Forgiveness. Cairo University still remember his remarkable national situations in serving Islam and Arab issues. It also remembers his historical support of Egypt and its people. It extends its sincere condolences to the Kingdom of Saudi Arabia and the Saudi students of Cairo University. "



On the other hand, Professor Gaber Nassar, President of Cairo University, has decided to cancel the concert of Egypt's Children Choir, was scheduled to be held on Wednesday, January 28, at the Grand Celebration Hall. This came in the context of mourning the death of King Abdullah bin Abdulaziz.
Latest News
The President of Cairo University thanks Cambridge for the courage shown in its return to fairer assessment methods, which restored the world's confidence in it.
Cairo University Celebrates Forty Fifth Anniversary of October Victory
Cairo University President Meets Vice-President of Renmin University of China to Discuss Means of Cooperation of Belt and Road Initiative with Ain Shams University President Attending
Open Dialog by Minister of Islamic Endowments and Cairo University President with Students about Deconstructing Extremist Ideologies
Cairo University Organizes International Forum for Cultural Heritage entitled Popular Literature and Interdisciplinary Studies in Participation with Researchers from 9 States
Back