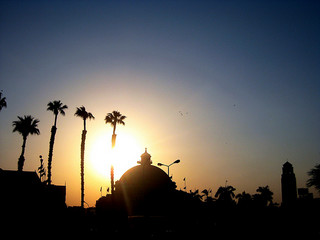 Cairo University has published the Nile Bond between its students and staff members to urge them to sign the Nile Bond that aims at the River Nile conservation. The bond's text is as the following:
Due to fierce attack against the River Nile, the lifeblood of the Egyptians, and the gift of their presence, and out of respect for Egypt's constitution, which recognizes the state's commitment to River Nile protection and the preservation of Egypt's historical rights associated with it, and the rationalization of benefiting from it without wasting its water or contaminating it, emphasizing the right of every citizen in enjoying the River Nile, without abusing it, therefore, I declare joining the "Nile Guards" Committee to protect the river from any infringement. I perform a popular role of censorship, I follow-up the Nile affairs, and participate in raising the awareness of citizens within the National Campaign for the River Nile Protection, and I swear not to contaminate or infringe on it.
Latest News
The President of Cairo University thanks Cambridge for the courage shown in its return to fairer assessment methods, which restored the world's confidence in it.
Cairo University Celebrates Forty Fifth Anniversary of October Victory
Cairo University President Meets Vice-President of Renmin University of China to Discuss Means of Cooperation of Belt and Road Initiative with Ain Shams University President Attending
Open Dialog by Minister of Islamic Endowments and Cairo University President with Students about Deconstructing Extremist Ideologies
Cairo University Organizes International Forum for Cultural Heritage entitled Popular Literature and Interdisciplinary Studies in Participation with Researchers from 9 States
Back