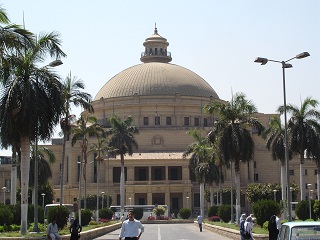 A ceremony has been organized by Faculty of Law – Cairo University for honoring five classes of the faculty's graduates. It is sponsored by Prof. Dr.\ Gaber Nassar, President of Cairo University, Prof. Dr.\ Omar Salem, Dean of the Faculty, and Prof. Dr.\ Abdul-Moneim Zamzam, Vice Dean of the Faculty for Education and Students Affairs. It is held on Thursday, March 12, 2015, at 4 p.m., at Grand Celebration Hall.
Noteworthy, Faculty of Law – Cairo University is one of the oldest faculties in the Middle East. It was founded in 1868 before founding Cairo University itself which was founded in 1908. Thus, the faculty's lifetime is estimated with a century and a half.
The faculty has endowed its long lifetime including hundred and fifty generations who cruised the world Eastward, Westward, Northward and Southward. They were the best ambassadors of Egypt in the international organizations and global universities (American, European and Regional) as well as all the judicial bodies.
This ceremony comes after a five-year break during which the faculty have not held any graduate ceremony since 2010. Therefore, on Thursday it celebrated the graduation of five classes of its sons from year 2010 to year 2014.
Latest News
The President of Cairo University thanks Cambridge for the courage shown in its return to fairer assessment methods, which restored the world's confidence in it.
Cairo University Celebrates Forty Fifth Anniversary of October Victory
Cairo University President Meets Vice-President of Renmin University of China to Discuss Means of Cooperation of Belt and Road Initiative with Ain Shams University President Attending
Open Dialog by Minister of Islamic Endowments and Cairo University President with Students about Deconstructing Extremist Ideologies
Cairo University Organizes International Forum for Cultural Heritage entitled Popular Literature and Interdisciplinary Studies in Participation with Researchers from 9 States
Back