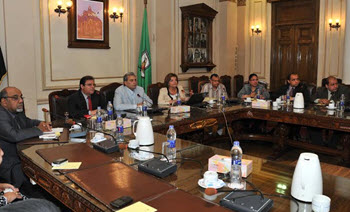 On 26/4/2015, Cairo University Council, headed by Prof. Dr.\ Gaber Nassar, President of Cairo University, has been held at New Conference Hall, Faculty of Medicine, Kasr Al-Aini. The council was initiated by greeting and expressing appreciation to Eng.\ Ibrahim Mahlab, Egyptian Prime Minister, for his sincere efforts in boosting equipment and requirements of Kasr Al-Aini Emergency Hospital 185 for accidents and burns and inaugurating it, and his interest in Kasr Al-Aini Hospitals conditions and following-up their requirements to provide all therapeutic services for free to citizens.
The council has discussed the arrangements and rules of arranging exams tasks of second term of academic year 2014/2015 which will start by May 14 and according to each faculty, provided that they end not later than June 24. This includes announcing exam schedules, exam control tasks and arranging and securing exams halls. The council has confirmed the importance of the existence of the subject's professor at the exam time, forming committees for the visually impaired and those with special needs, delegating faculties deans for forming emergency committees for following-up exam course. The council also reviewed the security plan of exams, exam control, providing suitable numbers of administrative security individuals, and guarding exams halls. The council also stressed banning the presence of mobile phones or other technology means inside exam halls, and placing those devices in receivership until the end of exams.
Cairo University Council has also decided stopping the enrollment of new students in 9 programs at Open University Center starting by next year, as these programs do not cover their real costs. These programs are 8 Faculty of Arts programs and 1 Faculty of Kindergarten program. This besides the study of all mechanisms that contribute to developing existent open education programs and enhancing their outcomes through focusing on their skill and knowledge aspects.
University Council has decided forming a committee for setting rules of university books prices, so that those rules lead to making university book more affordable for students.
University Council has approved the mechanism of exchanging and bringing new scientific devices for university. This mechanism includes conducting exchange request by the specialist laboratory, research team, or academic staff. The council illustrated the properties, options and benefits of using exchange request and the approval of department council and faculty council concerning bringing scientific devices. This will facilitate exchange according to the applied rules and systems, as well as making maintenance contract of devices and guaranteeing providing spare parts during a period not less than 10 years. Devices then are added to the database of University Central Laboratory to make them available for all staff members who need them in their scientific research as well as enlarging the benefit got from them among research teams.
Latest News
The President of Cairo University thanks Cambridge for the courage shown in its return to fairer assessment methods, which restored the world's confidence in it.
Cairo University Celebrates Forty Fifth Anniversary of October Victory
Cairo University President Meets Vice-President of Renmin University of China to Discuss Means of Cooperation of Belt and Road Initiative with Ain Shams University President Attending
Open Dialog by Minister of Islamic Endowments and Cairo University President with Students about Deconstructing Extremist Ideologies
Cairo University Organizes International Forum for Cultural Heritage entitled Popular Literature and Interdisciplinary Studies in Participation with Researchers from 9 States
Back