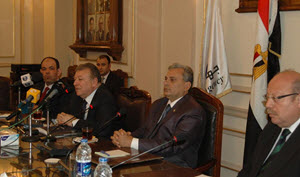 Cairo University has held a ceremony of signing a cooperation protocol with consumer protection System at Ahmed Lotfy El-Sayed Hall, Cairo University. It is attended by Atef Yacoub, Head of Consumer Protection System, a number of faculties' deans, leaderships, and representatives of consumer protection societies. Prof. Dr.\ Gaber Nassar, President of Cairo University, has confirmed the importance of making a list of the names of commercial companies and institutions which cheat Egyptian citizens. He pointed out the importance of developing consumer protection mechanism, engaging consumers in this protection, and standing up to fraud. "We believe in the importance of Consumer Protection System concerning regulating market mechanisms and following it up so as to protect the Egyptian consumer from fraud and manipulation", said Nassar in the ceremony. He has also added that university has presented 50 announcements to the public prosecution concerning certificates forgery of some centers as a result of fraud which spread at labor market recently. He pointed out that consumer protection is an important part of economic and administrative reform at the state.
The protocol signed between Cairo University and Consumer Protection System aims at exchanging legislative and legal experiences, offering technical and informative support, cooperating in polls, market research and productions checkups in collaboration with faculties and specialized centers of Cairo University so as to boost the system's efforts in developing consumer protection system.
Latest News
The President of Cairo University thanks Cambridge for the courage shown in its return to fairer assessment methods, which restored the world's confidence in it.
Cairo University Celebrates Forty Fifth Anniversary of October Victory
Cairo University President Meets Vice-President of Renmin University of China to Discuss Means of Cooperation of Belt and Road Initiative with Ain Shams University President Attending
Open Dialog by Minister of Islamic Endowments and Cairo University President with Students about Deconstructing Extremist Ideologies
Cairo University Organizes International Forum for Cultural Heritage entitled Popular Literature and Interdisciplinary Studies in Participation with Researchers from 9 States
Back