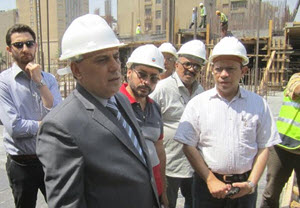 Accompanied with Prof. Dr.\ Gamal Essmat, Vice President of Cairo University for Graduate Studies and Research, and Yousry Ibrahim, General Secretary of Cairo University, Prof. Dr.\ Gaber Nassar, President of Cairo University, has visited the site of the project of Institute and Hospital of Endemic Diseases and Epidemics, affiliated to Cairo University, at Al-Haram Street. Through this visit, they inspected the first stage construction tasks of the hospital where Nassar got reassured about the workflow of carrying out this stage which includes a building that accommodates 120 beds, outpatient clinics, intensive care department, rays, binoculars and sonar rooms, analysis laboratories, and blood bank costing 120 million EGPs. Nassar has ordered the importance of finishing the first stage so as to inaugurate outpatient clinics before the end of year 2015 to offer citizens therapeutic services and in order for patients to benefit from them before initiating the following stage. All of the construction and equipment of the project are scheduled to be finished throughout 3 years in order for Endemic Diseases and Epidemics Hospital – Cairo University to become the first research and therapeutic institute in Egypt and The Middle-East to offer high-level health service in combating, diagnosing and treating endemic diseases. Nassar has also pointed out that Eng.\ Ibrahim Mahlab, The Prime Minister, has ordered forming a committee for examining endemic diseases hospital for the great importance of the project in detecting and treating endemic and infectious diseases in Egypt and neighbor countries.
Prof. Dr.\ Gamal Essmat has pointed out that the total energy of the project accommodates 350 beds, 4 operation rooms, 10 outpatient clinics, and research and diagnosis departments. He added that the hospital is composed of four buildings of 12, 000 meters per floor, and that the buildings include departments of contagious and cerebral viral fevers, emergency reception, operation rooms, surgery rooms, outpatient clinics and laboratories. The total cost of the project reaches 300 million EGPs.
Latest News
The President of Cairo University thanks Cambridge for the courage shown in its return to fairer assessment methods, which restored the world's confidence in it.
Cairo University Celebrates Forty Fifth Anniversary of October Victory
Cairo University President Meets Vice-President of Renmin University of China to Discuss Means of Cooperation of Belt and Road Initiative with Ain Shams University President Attending
Open Dialog by Minister of Islamic Endowments and Cairo University President with Students about Deconstructing Extremist Ideologies
Cairo University Organizes International Forum for Cultural Heritage entitled Popular Literature and Interdisciplinary Studies in Participation with Researchers from 9 States
Back