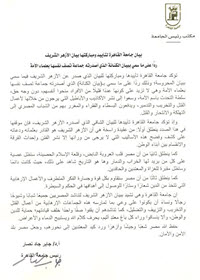 Cairo University asserts its support of the statement issued by Al-Azhar, so called "Well-Protected Egypt Statement", as a reply to the so called "Kinanah Statement" which was issued by a group that describes itself as the scientists of the nation. That group does not outreach a few number of individuals who granted themselves, without any right, the authority to speak on the behalf of the nation. They sought to spread lies and falsehoods through which they hope to carry on acts of murder and destruction, urging the simpletons, the poor and the seduced Egyptian youth to destruction, suicide and homicide.



Cairo University confirms its support of the clear statement issued by Al-Azhar, its stance in this regard stems firstly from a well-established doctrine that Al-Azhar, with its scientists and preachers, is able to expose these methods that aim at nothing but spreading riots and causing division among citizens. It secondly stems from the idea that Egypt, the vibrant heart of Arabism and the impregnable castle of Islam, will remain immune to all those who hope its destruction, and history is a witness, as has always been and will continue to be, to Egypt as a graveyard for invaders, aggressors and haters. It thirdly stems from that Egypt will resist, with all its power, the extremist thought and the terrorist actions that take religion as a mean to reach its targets in rule and control.



As it praises the statement of Al-Azhar, Cairo University calls on all the Egyptians; youth, the elderly, men and women, to be aware of the practices of these terrorist groups, namely; acts of murder, destruction, falsification and mislead. It also appeals to them for standing as a one line behind the leaderships to protect religion and the land, and resist being drifted towards all those who distort the words of Allah and desecrate blood and honors.



May Allah protect the people, army and Al-Azhar of Egypt and spoil the schemes of aggressors.
Latest News
The President of Cairo University thanks Cambridge for the courage shown in its return to fairer assessment methods, which restored the world's confidence in it.
Cairo University Celebrates Forty Fifth Anniversary of October Victory
Cairo University President Meets Vice-President of Renmin University of China to Discuss Means of Cooperation of Belt and Road Initiative with Ain Shams University President Attending
Open Dialog by Minister of Islamic Endowments and Cairo University President with Students about Deconstructing Extremist Ideologies
Cairo University Organizes International Forum for Cultural Heritage entitled Popular Literature and Interdisciplinary Studies in Participation with Researchers from 9 States
Back