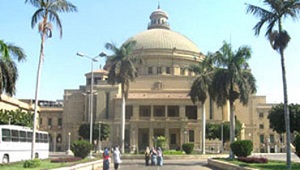 Cairo University Deans Council released a statement concerning the developments that accompanied the unfortunate incident of the Russian plane; the text was as the following:


Headed by Prof. Dr. Gaber Nassar, Cairo University President, Cairo University Deans Council discussed in its meeting on Sunday, 8/11/2015, the developments that accompanied the incident of the Russian plane crash in Sinai. The events and interferences in investigations have developed in an unprofessional, unscientific way that lacks impartiality and goodwill and ignore sustaining the truth, whereas seeking to unjustifiably punish a people and nation with economic embargo, and adversely affecting the country revenue earner; namely, tourism.

The aviation accidents in all countries of the world require extensive investigations that take a long time until specialists find their reasons and those in charge of them. There were accidents happened many years ago on which investigations failed to produce any result until now.

Prejudging the outcomes of the investigations and seeking to impose visions and perspectives regarding the Russian plane accident upon international public opinion is a matter that sound reasoning rejects.

Cairo University Deans Council confirms the solidarity of the Egyptian people one and all in confronting these biased policies and unprecedented interferences in technical investigations. The council calls upon everyone to stand and fuse together for the sake of the higher national interest. The matter today is neither that of a government and opposition nor a political dispute among parties that can disagree, but it is a matter of the future and lives of the Egyptians.

Everybody should know that what Egypt the State and Egypt the People achieved in its war against terrorism is but a thorn in the side of the schemes that calls a long period ago for dividing, scattering and atomizing the Arab World.

Thus, Cairo University Deans Council calls upon everybody to unite and work until Egypt and the Egyptians overstep this issue. It also calls upon the Egyptians as individuals and institutions to organize trips to the tourist destinations in Sharm el-Sheikh and others. The council also appeals to all the Egyptians abroad to spend their holidays in Egypt and consider that a national individual duty which no one who loves his/ her homeland should lag behind. This is to contribute one and all to adjusting some of the harm that may affect this vital industry of the national economy.

Egypt will remain free and self-governed, and the Egyptians will remain one hand that builds a promising future for its sons

May Allah keep Egypt and the Egyptians safe from any harm.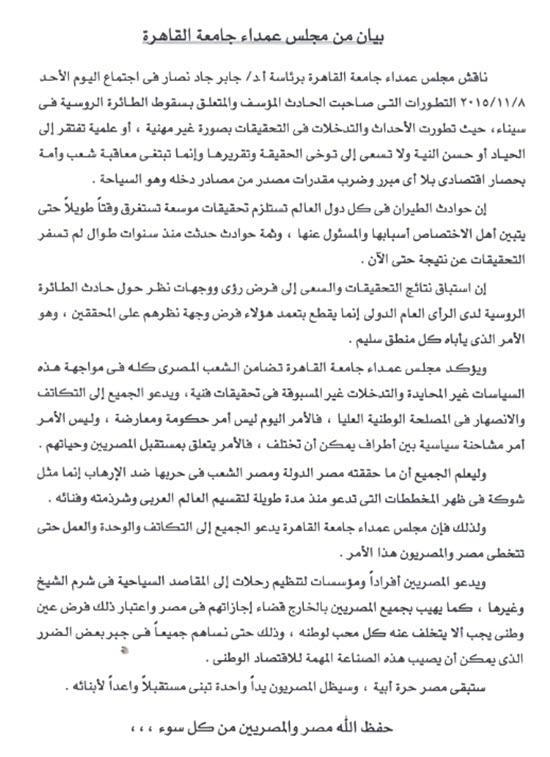 Latest News
The President of Cairo University thanks Cambridge for the courage shown in its return to fairer assessment methods, which restored the world's confidence in it.
Cairo University Celebrates Forty Fifth Anniversary of October Victory
Cairo University President Meets Vice-President of Renmin University of China to Discuss Means of Cooperation of Belt and Road Initiative with Ain Shams University President Attending
Open Dialog by Minister of Islamic Endowments and Cairo University President with Students about Deconstructing Extremist Ideologies
Cairo University Organizes International Forum for Cultural Heritage entitled Popular Literature and Interdisciplinary Studies in Participation with Researchers from 9 States
Back