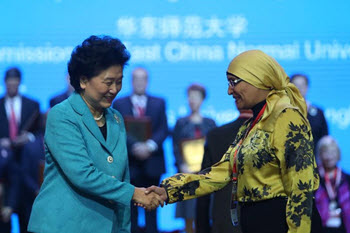 Prof. Dr. Rehab Mahmoud, the Chinese Department Chair at Faculty of Arts – Cairo University and the Director of Confucius Institute - Cairo University, won the award of best director of Confucius Institutes around the globe. Madam Liu Yandong, Vice-Premier of Chinese Council, presented her the award during her participation in the international conference for Confucius Institutes around the globe in Shanghai last month.

Prof. Dr. Gaber Nassar, Cairo University President, commended her won of the award during his meeting with her at his office. He confirmed the importance of strengthening the educational, research and cultural cooperation with Chinese scientific and cultural institutions and universities. Noteworthy, Confucius Institute – Cairo University was established in 2007 in accordance with the agreement between Cairo University, National Chinese Council and Peking University for spreading and teaching the Chinese language among the Egyptian youth. Cairo University is the main center for the institute in Egypt and the third in the African continent. Since its establishment in Egypt, more than 4000 scholars graduated from the institute by passing the training courses. A number of students traveled to China to learn about the Chinese culture as well.
Latest News
The President of Cairo University thanks Cambridge for the courage shown in its return to fairer assessment methods, which restored the world's confidence in it.
Cairo University Celebrates Forty Fifth Anniversary of October Victory
Cairo University President Meets Vice-President of Renmin University of China to Discuss Means of Cooperation of Belt and Road Initiative with Ain Shams University President Attending
Open Dialog by Minister of Islamic Endowments and Cairo University President with Students about Deconstructing Extremist Ideologies
Cairo University Organizes International Forum for Cultural Heritage entitled Popular Literature and Interdisciplinary Studies in Participation with Researchers from 9 States
Back