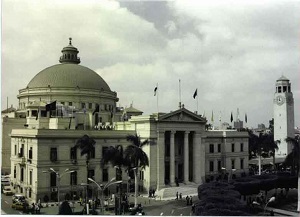 Faculty of Law, at Cairo University, and Dubai Police Academy organize joint eighth international scientific conference, entitled ،،Contemporary Criminal and Security Policy for Facing Crime Development,, , on 3-4/5/2016. The conference is sponsored by Prof. Dr. Gaber Nassar, Cairo University President, and Maj. Gen. Khamis Mattar Al-Mazeina, Commander-in-Chief of Dubai Police. The conference is to be held at Pearl Hall Fairmont Towers Heliopolis, Cairo, and attended by about 500 experts and specialists.

This was stated by Prof. Dr. Amr Salem, Faculty of Law Dean, Cairo University. Prof. Dr. Abdel-Moneim Zamzam, Faculty of Law Vice-Dean for Education and Student Affairs and Conference General Coordinator, pointed out that the conference is going to discuss several themes over two days. The themes of the conference revolve around contemporary security policy for facing crime development. Those themes are the role of data in security field, and security predictions of future criminal trajectories. In addition, other themes are on the characteristics of administrative police in societal legal security ،،comparative study among Egypt, Emirates and France,, , and protecting witnesses in corruption crimes. Moreover, the conference discusses prosecuting terrorists before International Criminal Court, International Criminal Law stance towards the bribery crime and combating it internationally, and expanding the scope of international criminal court specialties to reduce crime. Furthermore, themes of the conference also include recognizing the extent of economic motives influence on forming criminal behavior, and defendant rights in judiciary implementation of criminal justice at prosecution stage. The conference also touches upon the role of educational and religious institutions in preventing crimes, reducing them and facing misleading ideas, and citizen role in facing crime and confronting hatred discourse that incites discriminatory crimes.
Latest News
The President of Cairo University thanks Cambridge for the courage shown in its return to fairer assessment methods, which restored the world's confidence in it.
Cairo University Celebrates Forty Fifth Anniversary of October Victory
Cairo University President Meets Vice-President of Renmin University of China to Discuss Means of Cooperation of Belt and Road Initiative with Ain Shams University President Attending
Open Dialog by Minister of Islamic Endowments and Cairo University President with Students about Deconstructing Extremist Ideologies
Cairo University Organizes International Forum for Cultural Heritage entitled Popular Literature and Interdisciplinary Studies in Participation with Researchers from 9 States
Back