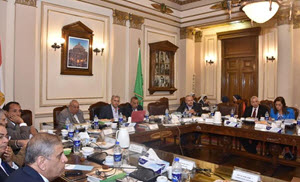 Cairo University Council, headed by the university president Prof. Dr. Gaber Nassar, held a meeting on July 31, 2016. The council decided not increasing the program expenses at the faculties including special programs for 2016/2017, taking current living conditions into account and being in pursuit of activating the societal role of Cairo University. Yet, the expenses of imported books for those special programs are high.

Cairo University Council acclaimed the efforts and distinctive performance of the university deans, vice-deans, staff members and employees during final exams work for 2015/2016 before exam results were announced in time.

Prof. Dr. Gaber Nassar said that some faculties applied Bubble Sheet exam system. He added that he was informed about the satisfaction of students with this new system of exams. In addition, this system greatly reduces studying from sheets.

Cairo University Council decided preparing a detailed study for the potential of generalizing this system at the university faculties, provided that the study focuses on monitoring the pros and cons of this system. The council also decided forming a support team for helping professors in making Bubble Sheet exams with specific educational frameworks.

Cairo University Council approved receiving students from exterior universities to spend one or two terms or a specific number of subjects at one of the faculties of Cairo University. Those students are received in light of Bologna Process and the European Higher Education. Cairo University receives exterior students also in light of Universities Organization Law, its executive bylaw and the university council resolutions of cooperation with exterior universities through a group of controls. These controls include that any student finished a term or two terms is not a graduate of Cairo University, but the subjects he/she studied are counted as part of the graduation subjects of the university he/she came from.

Cairo University Vice-Dean for Education and Students Affairs Mohamed Osman El-Khosht said that Bologna Announcement in which Cairo University Participates is a crucial step towards enhancing the relations between universities in terms of education and student exchange. Most notably, the universities of European Union (EU). The faculties will be announced for receiving students from exterior universities in Bologna Announcement to start activating the initiative. The initiative greatly contributes to attracting foreign expatriate students and enhancing the position of the university in world universities rankings regarding expatriate students in Cairo University.

The University Council stressed the importance of taking appropriate measures towards establishing Braille Curriculum Press and audio compact disks (CDs) for visually-impaired students. This aims at mingling disability challengers with their colleagues.

Cairo University Council acclaimed the efforts of Kasr Al-Ainy Hospitals in enhancing their performance and providing citizens with medical and therapeutic services in spite of the large number of frequenters. The council also commended opening A Cerebrovascular Unit at Kasr Al-Ainy Hospital.

Cairo University Council approved cooperation agreement and executive program between Cairo University, Egyptian Russian University) ERU) and Egypt-Japan University of Science and Technology (E-JUST(.

Cairo University Council accepted the donation granted by Prof. Dr. Abdel Majid Murad Mohamed, Biochemistry Department, Faculty of Agriculture, Cairo University. He donated a thermal cycle, costing EGPs 120, 000, to Biochemistry Department at Faculty of Agriculture. The council also accepted the donation of Dr. Salwa Hussein Tabw, as she granted EGPs 600, 000 to Faculty of Medicine. Furthermore, the council accepted the donation of Haytham Sayed Ramadan, Teacher Assistant at Faculty of Physical Therapy, Cairo University, as he granted EGPs 60, 000 for Graduate Studies and Research Fund, at Faculty of Physical Therapy.
Latest News
The President of Cairo University thanks Cambridge for the courage shown in its return to fairer assessment methods, which restored the world's confidence in it.
Cairo University Celebrates Forty Fifth Anniversary of October Victory
Cairo University President Meets Vice-President of Renmin University of China to Discuss Means of Cooperation of Belt and Road Initiative with Ain Shams University President Attending
Open Dialog by Minister of Islamic Endowments and Cairo University President with Students about Deconstructing Extremist Ideologies
Cairo University Organizes International Forum for Cultural Heritage entitled Popular Literature and Interdisciplinary Studies in Participation with Researchers from 9 States
Back