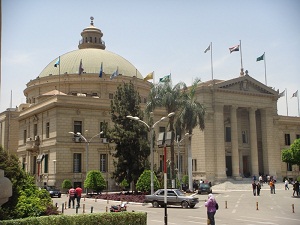 Egyptian Society of Analytical Chemistry (EGSAC) held the conference, entitled ،،The Ninth International Conference on Modern Trends of Chemistry – Analytical Chemistry for Better Life,, , in the period from January 2 – 5, 2017, at 10 a.m., at Conference Hall, Cairo University Hostel.
The conference is sponsored by Cairo University President Gaber Nassar. It is attended by Egyptian analytical chemistry scholars. The previously held conferences were also attended by many analytical chemistry scholars from Asian, African, European, and American countries. This highly tightened social links among those scholars and increased experience exchange among them.
The Conference Chair Moataza Khater said that ،،the conference themes revolve around many topics concerned with many Egyptian and foreign scientific bodies. ,, The first theme tackles modern analytical chemistry, new researches in this field and most recent developments of analytical chemistry and their various applications in different fields.
The second theme discusses analytical electrical chemistry including different researches in this field and the use of them in different medical and pharmaceutical analyses. This benefits pharmaceutical companies a lot and research centers that deal with pharmaceutical analyses including ion-selective electrodes.
Dr. Moataza Khater added that ،،the conference tackles environmental analytical chemistry whether in air, water or soil and presents suitable solutions or pollution treatment. ,,
The fourth theme handles spectroscopy including explaining and presenting different methods of quality control in different chemical industries such as medicine and different petroleum industries.
The conference also includes holding some workshops on laboratory of analysis of pesticide residues and heavy metals, a workshop on Sandia American chemical laboratory safety and a workshop on environmental commitment administration at the ministry of industry.
Latest News
The President of Cairo University thanks Cambridge for the courage shown in its return to fairer assessment methods, which restored the world's confidence in it.
Cairo University Celebrates Forty Fifth Anniversary of October Victory
Cairo University President Meets Vice-President of Renmin University of China to Discuss Means of Cooperation of Belt and Road Initiative with Ain Shams University President Attending
Open Dialog by Minister of Islamic Endowments and Cairo University President with Students about Deconstructing Extremist Ideologies
Cairo University Organizes International Forum for Cultural Heritage entitled Popular Literature and Interdisciplinary Studies in Participation with Researchers from 9 States
Back