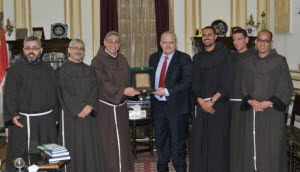 Cairo University President Mohamed Osman Elkhosht receives Catholic Franciscan delegation composed of Priest Kamal Labib Head of Franciscan Monks at Egypt, Priest Milad Shehata Director of Franciscan Culture Center in Cairo, Priest Boutros Daniel Director of Cinema Catholic Cultural Center, and others.
The Catholic Franciscan delegation presents congratulations to Elkhosht for his presidency of Cairo University. A friendly talk is exchanged on art and cinema.
Elkhosht said that ،،Values of tolerance, peace and love among peoples as well as communication between religions for disseminating joint human values and unlearning intolerance are very important.,, He acclaims the role of Cinema Catholic Cultural Center. Elkhosht pointed out that ،،There are two directions of determining the role of art. Art is either a reflection of society or it leads society for change.,, He mentions ،،I am brought up with art that has message especially in cinema field.,,
Latest News
The President of Cairo University thanks Cambridge for the courage shown in its return to fairer assessment methods, which restored the world's confidence in it.
Cairo University Celebrates Forty Fifth Anniversary of October Victory
Cairo University President Meets Vice-President of Renmin University of China to Discuss Means of Cooperation of Belt and Road Initiative with Ain Shams University President Attending
Open Dialog by Minister of Islamic Endowments and Cairo University President with Students about Deconstructing Extremist Ideologies
Cairo University Organizes International Forum for Cultural Heritage entitled Popular Literature and Interdisciplinary Studies in Participation with Researchers from 9 States
Back