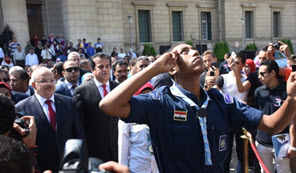 The Minister of Higher Education Khaled Abdel-Ghaffar visits Cairo University. Dr. Khaled Abdel-Ghaffar is accompanied by Cairo University President Mohamed Osman Elkhosht. The minister inspects preparations for new academic year. He meets Faculty Deans with the University President and Vice-Deans. The minister speaks out the importance of flag salute on the first day of study to implant sense of belonging in the students of Egyptian Universities. The minister refers to the importance of regular educational process, academic staff members attendance and supporting communication between them and students, boosting different student activities, and widening student activities and educational process participation base.
The Minister of Higher Education urges the issuance of student guidebook to acquaint students with their rights and duties in the university.
The Minister of Higher Education, Cairo University President, Cairo University Vice-Deans, and Faculty Deans witness flag salute with students in front of Cairo University dome. The flag salute is followed by a parade of media campaign and playing the national anthem with military music.
Cairo University President Mohamed Osman Elkhosht visits some faculties on Saturday, September 16, 2017, to follow up regular study and education progress on the first day of new academic year. Elkhosht also follows up faculties preparations for new academic year including study schedules announcement, equipped lecture halls, and activities provided to students during the new academic year.
Elkhosht is accompanied during his tour with some leaderships of Cairo University. Elkhosht meets students while he is going on a tour to inspect student activities held at Cairo University campus. Student activities include the new ceremony of student reception in front of the dome and artistic exhibition held by students. Elkhosht delivers his message to students to do their best in studying and practicing different student activities nurturing their skills.
Cairo University President visits Faculty of Economics and Political Science. He said, in a speech for students, that ،،Cairo University will launch initiative for convening student conference which the university students and leaderships participate in. The conference is aimed at exchanging opinions and knowing about student vision in development and reform and presenting ideas that contribute to the promotion of education and scientific research in university.,, Elkhosht pointed out that ،،Cairo University studies awarding distinguished student.,,
Latest News
The President of Cairo University thanks Cambridge for the courage shown in its return to fairer assessment methods, which restored the world's confidence in it.
Cairo University Celebrates Forty Fifth Anniversary of October Victory
Cairo University President Meets Vice-President of Renmin University of China to Discuss Means of Cooperation of Belt and Road Initiative with Ain Shams University President Attending
Open Dialog by Minister of Islamic Endowments and Cairo University President with Students about Deconstructing Extremist Ideologies
Cairo University Organizes International Forum for Cultural Heritage entitled Popular Literature and Interdisciplinary Studies in Participation with Researchers from 9 States
Back