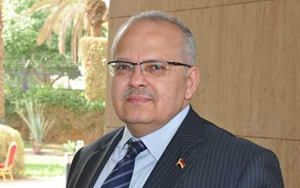 The Arts and Criticism Journal specializing in thought and culture has the title ،،Osman Elkhosht from Jurisprudence to Philosophy,, on the cover of its newly issued volume. The volume has a complete file inside which is inclusive of readings on the intellectual array of philosophical, religious, and moral thinking according to Dr. Mohamed Osman Elkhosht, Professor of Philosophy of Religion and Modern and Contemporary Doctrines and Cairo University President.
The file includes a group of articles and studies discussing the latest intellectual writings of Elkhosht in his book ،،Towards New Religious Age.,, The articles in the file are; one entitled ،،Lesson in Combating Extremism,, by Professor of Philosophy of Science at Cairo University Yomna Tarrif Elkholy, and another article entitled ،،Towards New Age of Religion,, by Professor of Popular Arts at Arabic Department Cairo University Khaled Abuleil.
Professor of Philosophy at Beni Suef University Ghidan Elsayed Ali wrote a study entitled ،،From Jurisprudence to Philosophy,, in which he tackles how Elkhosht not only managed to renew current discourse but he also introduce new religious discourse in his book ،،Towards New Religious Age.,, Professor Ghidan Ali said in the introduction to his study that ،،Islamic philosophers began their lives with studying Jurisprudence and ended with philosophizing critical issues which humans everywhere are occupied with … It was the same for the thinker Mohamed Osman Elkhosht who pursued their path to begin with their conclusion and express the gap that started with the death of Ibn Rushd until our time
Latest News
The President of Cairo University thanks Cambridge for the courage shown in its return to fairer assessment methods, which restored the world's confidence in it.
Cairo University Celebrates Forty Fifth Anniversary of October Victory
Cairo University President Meets Vice-President of Renmin University of China to Discuss Means of Cooperation of Belt and Road Initiative with Ain Shams University President Attending
Open Dialog by Minister of Islamic Endowments and Cairo University President with Students about Deconstructing Extremist Ideologies
Cairo University Organizes International Forum for Cultural Heritage entitled Popular Literature and Interdisciplinary Studies in Participation with Researchers from 9 States
Back