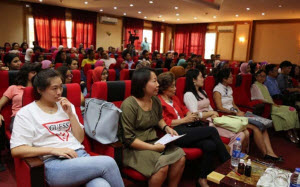 Confucius Institute for Chinese Language organizes ،،Confucius Day,, celebration. The institute headquarter at Cairo University witnesses a day for free activities among students with whom the institute is filled before the celebration begin. The institute halls are filled with Chinese and Egyptian students and professors. The ceremony is witnessed by the Manager of Confucius Institute Cairo University Rehab Mahmoud and Egyptian and Chinese Professors of the institute.
The ceremony activities started with a lecture delivered by Wang Khai Yan. Her lecture is entitled ،،The Culture of Chinese Medicine: Health Way.,, She explained the main principles of Chinese medicine. The lecture attracted many students especially the topic entitled ،،Reduce Frozen Meals Intake.,, Student of Cairo University Nada commented on this topic saying that she will respond to the advices in the lecture. Students felt interested in cupping and Chinese Acupuncture. The lecture entitled ،،Wushu,, delivered by Professor Li Ning attracted the institute students. Li Ning explained Wushu types, ethics, and the significance of fist and palm salute. He defined shadow boxing. Three Chinese Professors presented Chinese Kung-Fu show. Student Xiao Lan expressed her enthusiasm saying that she has been waiting for such a day, she enunciated her pleasure to see many Chinese Professors.
Many students headed the halls where different activities are held, such as; Chinese jiaozi, Chinese writing, Chinese drawings, Chinese knot, and other activities. The Chinese language class lectured by Professor Yuh Shioh Yang attracted many novices of Chinese language. Many students surrounded the activity of Chinese song learning entitled ،،Chinese Language Rhymes in Homeland Love.,, Many famous songs were broadcasted such as ،،Chinese ceramics,, , ،،thousands of miles away,, song, as well as popular songs such as ،،water fountains,, , ،، where the time is gone?,, song, and the romantic song ،، happy time passes quickly.,, Professor Liu Yu Liang sang with two professors a song ،،Shin Joo Fei Zoe Gio,, which received a warm welcome by attendees.
Latest News
The President of Cairo University thanks Cambridge for the courage shown in its return to fairer assessment methods, which restored the world's confidence in it.
Cairo University Celebrates Forty Fifth Anniversary of October Victory
Cairo University President Meets Vice-President of Renmin University of China to Discuss Means of Cooperation of Belt and Road Initiative with Ain Shams University President Attending
Open Dialog by Minister of Islamic Endowments and Cairo University President with Students about Deconstructing Extremist Ideologies
Cairo University Organizes International Forum for Cultural Heritage entitled Popular Literature and Interdisciplinary Studies in Participation with Researchers from 9 States
Back