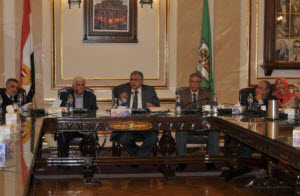 Cairo University organizes a seminar at Ahmed Lotfy Elsayed Hall on Wednesday in the framework of cultural salon organized by the university and sponsored by Cairo University President Mohamed Osman Elkhosht. The seminar is entitled ،Between Sixties University and Third-Generation University.,
Journalist Abdelqader Shoheib said that Cairo University was not only consisting of auditoriums for receiving lectures in sixties, but it also was representing a full new life that adds many experiences and benefits to the sons and daughters of this generation. He added: ،Now we miss these activities and the university task has become confined to education only besides passing education stages to be certified and allowed job opportunity., Shoheib pointed out that education in universities during sixties depended on mind industry and imparting to students the ability to think and develop their problem-solving potentials and not just rote learning as happened hereafter.
Shoheib proceeded that this blend of education styles was natural and logical because the few number of students at that time, besides the distinctive elite of professors who had distinguished relations with students. He said that this kind relation between professor and student is no longer the same as the case now because student numbers are larger and professors are occupied with teaching in more than one university for the some circumstances especially economic ones.
Abdelqader Shoheib reviews 10 points for benefitting from the systems that were common at the sixties universities to avoid the mistakes witnessed by these universities as follows:
1- Education is not enough for university but full life for students that serves the society where they live.
2- University is concerned with the industry of critical mind.
3- Dedication of professors to university work being provided with suitable income.
4- Egypt is in need to increase different kinds of universities and ensuring the right to university education for all.
5- University should be concerned with engaging in political activity by the concern in public affairs and not partisan activity.
6- University plan should be developed for confronting religious extremism and takfiri thought which systematically invaded university.
7- Universities are need to restoring kind and distinctive relations between students and professors to create healthy university life.
8- University should be a model for disseminating values of good, beauty, citizenship, equality, accepting others, and mutual coexistence.
9- Universities should be independent from governmental administrations and government should not interfere in running administration to reach model independent universities.
10- University should examine its surrounding environment carefully and work on serving it
The seminar is run by Prof. Dr. Abdullah Eltattawy Cultural Advisor for Cairo University President who referred in his speech to the idea of university independence, educating minds, respecting youth visions, ideas and suggestions for the industry and development of aware critical mind skills of students able to discuss and ask questions. These are the most important goals of Cairo University Document for Culture and Enlightenment issued by Cairo University President Mohamed Osman Elkhosht as a framework to Cairo University. Eltattwy pointed out that third generation university shortens distances between students, and professor, and leaderships.
The seminar attended by some students and professors ended by the importance of distinguishing between political education and political party or trend, and the importance of sound political awareness of students so that not to be politically absent.
Latest News
The President of Cairo University thanks Cambridge for the courage shown in its return to fairer assessment methods, which restored the world's confidence in it.
Cairo University Celebrates Forty Fifth Anniversary of October Victory
Cairo University President Meets Vice-President of Renmin University of China to Discuss Means of Cooperation of Belt and Road Initiative with Ain Shams University President Attending
Open Dialog by Minister of Islamic Endowments and Cairo University President with Students about Deconstructing Extremist Ideologies
Cairo University Organizes International Forum for Cultural Heritage entitled Popular Literature and Interdisciplinary Studies in Participation with Researchers from 9 States
Back