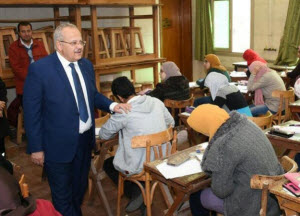 Elkhosht: ،Student Exams Quietly Proceeding and Bubble Sheet Applied with 55% of Exam,


Cairo University students continue first term exams for the academic year 2017/2018. Exams are scheduled to end on January 18, 2018. Mid-year vacation starts on January 20, 2018, and continues for 15 days according to the time plan approved by Supreme Council of Universities.
Cairo University President Mohamed Osman Elkhosht said that a daily report is prepared by faculties on exam works including the number of attending students and cheating cases that are investigated at time. The report helps in following up any complaint regarding exams.
Elkhosht added that first term exams are quietly proceeding at faculties. No hindrances or problems were monitored in this regard except for some individual cheating cases that are remarkably reduced compared to previous years because of applying Bubble Sheet exam system. Bubble sheet is implemented with 55% of university exams. It achieves great success. Problem-solving question will be applied by the second term. It is aimed at imparting ideological, mental, and decision-making abilities to students. Problem-solving question is 5% of exam questions.
First term exam progress report at Cairo University faculties refers to 163 cheating cases among students, 20 patient cases performing exam at Students Hospital, and 13 imprisoned students performing exam until January 11, 2018.
Latest News
The President of Cairo University thanks Cambridge for the courage shown in its return to fairer assessment methods, which restored the world's confidence in it.
Cairo University Celebrates Forty Fifth Anniversary of October Victory
Cairo University President Meets Vice-President of Renmin University of China to Discuss Means of Cooperation of Belt and Road Initiative with Ain Shams University President Attending
Open Dialog by Minister of Islamic Endowments and Cairo University President with Students about Deconstructing Extremist Ideologies
Cairo University Organizes International Forum for Cultural Heritage entitled Popular Literature and Interdisciplinary Studies in Participation with Researchers from 9 States
Back