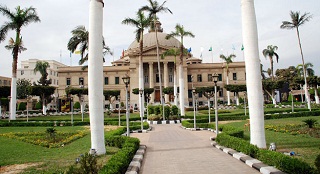 Faculty of Engineering, Cairo University, has won the eighth place in the global competition of Shell Company for Eco-friendly Cars that has been held in Philippines from 6-9/2/2014.
Egypt has participated in the marathon with two teams from Cairo University and Ain-Shams University. The marathon depended on the participating students from around the world who designed energy-saving and highly efficient cars, with each car goes the furthest distance using the least amount of fuel.
Dr.\ Sherif Mourad, Dean of Faculty of Engineering, Cairo University, stated that the winning Egyptian team has designed a whole car in two years. The Egyptian car achieved efficient fuel that enabled the car to travel 122 km using only one liter of fuel. He also pointed out that the car's body was designed and made of carbonic fibers of high strength and light weight.
Mourad thanks all the winning Egyptian team members who are: Youssef Ibrahim, Ahmed Karam, Rimon Toma, Islam Al-Tabbakh, Mustafa Al-Masry, Wafaa Ali, Islam Taiseer, Hany Al-Anany, Mohamed Al-souody, Mohamed Hisham and Ali Mohamed, he also thanks Dr.\ Omar Hazin, Teacher Assistant of Mechanical Power Engineering Department and the team's supervisor.
Latest News
The President of Cairo University thanks Cambridge for the courage shown in its return to fairer assessment methods, which restored the world's confidence in it.
Cairo University Celebrates Forty Fifth Anniversary of October Victory
Cairo University President Meets Vice-President of Renmin University of China to Discuss Means of Cooperation of Belt and Road Initiative with Ain Shams University President Attending
Open Dialog by Minister of Islamic Endowments and Cairo University President with Students about Deconstructing Extremist Ideologies
Cairo University Organizes International Forum for Cultural Heritage entitled Popular Literature and Interdisciplinary Studies in Participation with Researchers from 9 States
Back