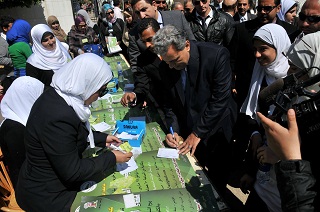 Sponsored by Dr.\ Gaber Nassar, President of Cairo University, Dr.\ Mohamed Yousry Hashem, Faculty Dean, Faculty of Agriculture – Cairo University has organized the meeting of generations, at the faculty's playground, which is organized by the faculty every ten years, and through which faculty graduates are gathered since its emergence until now. It was attended by Dr.\ Ezz-el-Din Abu-Steit, Vice President of Cairo University for Education and Students Affairs, faculty vice deans, professors and Salah Al-Saadany, an actor and a graduate of Faculty of Agriculture.
Dr.\ Gaber Nassar has pointed out, in a speech which he has delivered, that Faculty of Agriculture exerted a lot of efforts until it topped its peers in the peers in the whole Arab World. He has also mentioned that Egypt is basically an agricultural country as the Egyptians have lived on the bounties the Nile River.
He confirmed that Egypt now goes through a crisis related to the Nile River, and that everybody should militate to find a way out of such a crisis. Egyptians should deal with the Nile River through a new policy. They should also follow the example of Mohamed Ali and restore Egypt's agricultural glory.
In his speech which he has delivered during the ceremony, Dr.\ Mohamed Yousry said that he worked for ten years to gain accreditation to create larger opportunities for the faculty's graduates who belong to the faculty in a peerless way. He has also said that the faculty started since working with JICA for 4 years to cultivate crops that consume a small amount of water.
Latest News
The President of Cairo University thanks Cambridge for the courage shown in its return to fairer assessment methods, which restored the world's confidence in it.
Cairo University Celebrates Forty Fifth Anniversary of October Victory
Cairo University President Meets Vice-President of Renmin University of China to Discuss Means of Cooperation of Belt and Road Initiative with Ain Shams University President Attending
Open Dialog by Minister of Islamic Endowments and Cairo University President with Students about Deconstructing Extremist Ideologies
Cairo University Organizes International Forum for Cultural Heritage entitled Popular Literature and Interdisciplinary Studies in Participation with Researchers from 9 States
Back