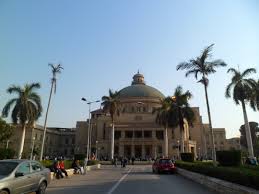 Rates of international scientific research, among staff members of Cairo University's faculties, published in scientific periodicals and encyclopedias internationally ranked, have witnessed a remarkable increase during year 2014. Scientific researches published at the international level of staff members in all scientific disciplines have reached about 2070 research. Researchers at the international level have also increased and they are mentioned in major scientific encyclopedias. This has been declared by Professor Gaber Nassar, President of Cairo University.
Faculty of Science comes to the fore of international scientific publishing, followed by Faculty of Medicine, then Faculty of Pharmacy and Faculty of Engineering. Cairo University has accredited a group of policies to enhance scientific research system, stimulate staff members to publish scientific research at the international level, and support them financially to publish their research. The progress of Cairo University's scientific ranking is an anticipated result of the university's efforts in enhancing its scientific research system. 25million EGPs of self university resources have been allocated to carry out research projects inside the university, conducted by staff members. The central laboratory is being equipped costing more than 30 million EGPs. More than 1300 websites have been established on Cairo University's e-portal for staff members to boost the required criteria of global rankings. This has been illustrated by Professor Gamal Essmat, Vice President of Cairo University.
Latest News
The President of Cairo University thanks Cambridge for the courage shown in its return to fairer assessment methods, which restored the world's confidence in it.
Cairo University Celebrates Forty Fifth Anniversary of October Victory
Cairo University President Meets Vice-President of Renmin University of China to Discuss Means of Cooperation of Belt and Road Initiative with Ain Shams University President Attending
Open Dialog by Minister of Islamic Endowments and Cairo University President with Students about Deconstructing Extremist Ideologies
Cairo University Organizes International Forum for Cultural Heritage entitled Popular Literature and Interdisciplinary Studies in Participation with Researchers from 9 States
Back